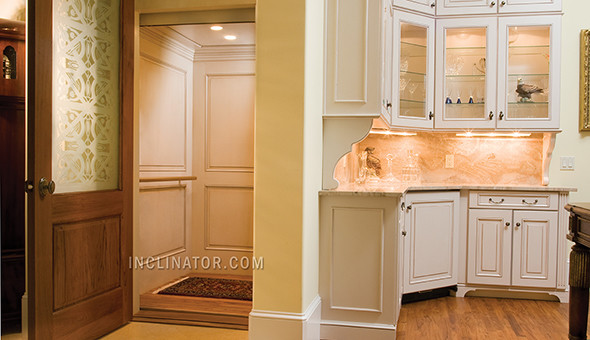 Elevette® Home Elevators
Choose a standard model for simple accessibility or custom-design an elegant elevator that adds interest and style to your home.
Homeowners appreciate Inclinator's beauty and reliable performance. Architects love the near endless design possibilities. Every Inclinator product is skillfully hand-made and finished one-at-a-time, making customization possible. It's a sound investment, as the increase in your home's value often exceeds the cost of an elevator. It also makes your home more sellable to a larger market.
Inclinator's Elevette is available in five standard cab styles, four drive system types, 26 different door configurations and the most features and accessories. Any cab style can be used with any drive system. Our superior engineering allows you to have a deeper and wider elevator in the same shaft size than any other manufacturer. Elevette can be placed in an interior or exterior elevator shaft.
Add to an existing home or include in new construction.
A home elevator only takes up the space of a standard closet. The cab can be placed in an elevator shaft or in no shaft. Shafts can be inside the home or outside for accessing from a driveway, walkway or patio. There can be doors on 1, 2 or 3 sides of an Elevette, allowing for just about any home's multi-floor (or landing) configuration.
Available in five cab styles plus any custom design you can imagine.
Elevette Selections & Details