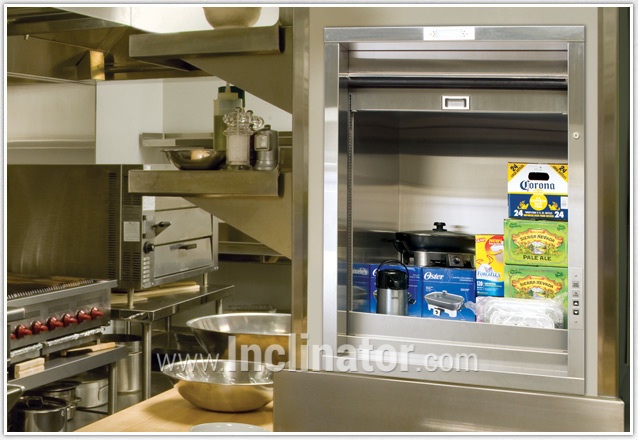 Stop carrying heavy or bulky items up and down stairs.
Reduce the risk of back strain, aching muscles and even accidents by installing an Inclinator Dumbwaiter. For businesses, a Workers' Comp claim could easily exceed the cost of a Dumbwaiter.
Can be used as counter-loading or floor-loading.
Choose a bi-parting, slide-up or swing door to fit your need or room layout. Can have up to 6 stops with automatic controls at each landing. The energy-efficient drive system requires just 220V electrical.
Custom sizes up to 36″ x 36″ x 48″ (91.4 cm x 91.4 cm x 121.9 cm)
200 lb. (90 kg), 300 lb. (136 kg) and 500 lb. (226 kg) capacity models
Can be installed at counter or floor level
Travel up to 27′ (8.2 m) on 200 lb. (90 kg) model
Travel up to 47′ (14.3 m) on 300 lb. (136 kg) and 500 lb. (226 kg) models
Automatic controls from any floor
Can accommodate openings on 1, 2 or 3 sides
Up to 6 stops
Hoistway door options include slide-up, bi-parting and swing
(machine access door is always swing)
Car gate options include bi-parting, slide-up and collapsible where allowed by code
Painted steel or optional stainless steel
220V electrical with flexible power unit location
Rolled steel rail mounted to 2″ x 12″ (5.0 cm x 30.4 cm) plank
Energy-efficient cable drum drive
Two Type A safety devices
Meets all code requirements for safety
Fire-rated door options available
Knock-down construction standard
2-year warranty
Door Options
Hoistway Door: Bi-Parting, Slide-Up or Swing Door: Available in Stainless Steel and Primed Carbon Steel
Machine Access Door: Available in Stainless Steel or Primed Carbon Steel
Gate Options
Bi-Parting or Slide-Up Gate: Available in Stainless Steel and Primed Carbon Steel
Call Buttons
Above control station only available with bi-parting and slide-up doors.
Safety Options
Car cam and roller position shut-off switch meets all industry codes as a dumbwaiter door safety interlock.Key lock and door open shut-off switch meet all industry codes for a machine room access door interlock.
Meets or exceeds the requirements of ASME A17.1-2007 and CSA B44-07 safety codes for elevators and escalators. Consult your local building authorities for specific regulations on these products before purchasing. Specifications, material finishes and product options are subject to change without notice. Actual colors may vary slightly from shown on computer or print-out.